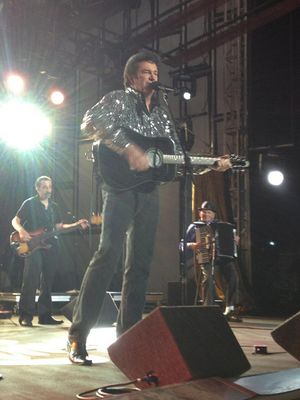 Bio
Steve Waddington's Tribute to Neil Diamond
"You have a beautiful voice and you sound so much like my son. You even look like him!"    ---Rose Diamond (Neil's mom)
For many, the songs of Neil Diamond are like the soundtrack of their lives, and NO ONE sings Neil Diamond like Steve Waddington!  Yes, Steve plays the same type and style of acoustic guitar that identifies each of Neil's songs so well, and he has the quintessential sequined outfits, but what really sets him apart from the other tributes is his amazing voice!  He sounds more like the original Neil Diamond that we all remember so well from radio and recordings, but he adds a few flourishes and vocal nuances from Neil's more recent shows...a vocal hybrid, if you will, from every era of Neil's 50 year career. Truly..."the Feel of Neil"! 
 His backing band, Diamond Jubilee,  is comprised of the finest professional musicians currently working today! Each member has an impressive resume backing the biggest names in entertainment, and they bring their "A game" to every show!  They get everyone singing along, clapping, laughing, dancing and just having a blast! It's a fun trip down "memory road"! 
The only show that would sound better than this would be seeing Neil Diamond himself
_______________________________________________________
Steve Waddington is a gifted and accomplished singer/guitarist/songwriter/actor/voiceover artist, and vocal impressionist who has been entertaining audiences for DECADES! (In other shows he does an equally spot-on Johnny Cash, Elvis, Dean Martin, Gordon Lightfoot and others! ) Whether on stage, in studios, on records, in film and TV, on the radio and internet, at casinos, theatres, festivals, fairs, corporate events, fundraisers, private parties, nightclubs, or performing arts centers, he's known as the consummate professional and an "entertainer's entertainer".
The reviews are in...
"It blows us away how much you sound like Neil. Just amazing" -- Neil Diamond's horn section @ JAX Bar & Grill  
"I've been booking top-tier entertainers for over 40 years at my various nightclubs, some of the biggest names in the business, and Steve Waddington is one of the absolute BEST I've ever seen! Incredible talent!"  -Tom Monteleone, owner of Barone's
"OMG! You were FANTASTIC! It was like the real Neil Diamond sang at our wedding! Everyone LOVED it! Thank  you SO MUCH" --Dave & Anne-Marie, Los Angeles wedding 
"Your Neil Diamond tribute is the best I've ever seen. I LOVE the show"  --Andy Singer, frontman for BLASPHEMOUS RUMOURS and THE FURS
"PERFECTION!" We can not imagine anyone better! Steve is a true tribute artist who absolutely blew us away as Neil Diamond...what a VOICE...and what a PRO!"---Jennifer Lyons